Zingari Man
Skin Rescue
Sometimes the road of life has some tough challenges.  This skin rescue is a must in your travel kit or at home.  The environment can be tough but we have just what you need to treat those annoying issues.  
Use on anything from scratches, cuts, abrasions, cuticles, dry cracked hands or heels, dry skin patches, bug bites and tattoos to help moisturize and soothe irritated skin.
Directions: Apply small amount to affected area as desired. *Discontinue use if irritation occurs.
Ingredients: Olive oil, Beeswax, Black Cumin seed oil, Emu oil, Sunflower lecithin, Chamomile flowers, Comfrey, Plantain, Calendula, Frankincense resin, Myrrh resin, Lavender oil, Tea tree oil, Copaiba oil.
Net wt 2oz
Customer Reviews
Simply great!
My job requires long hours of typing, the skin rescue has been great to my dry hands. It leaves no greasy residue and a subtle frangrance, allowing me to use it while at work.
Awesome stuff!
This is some great balm. I use it on cracked skin on my hands and it does a fantastic job healing and protecting. A little bit goes a long way so the jar should last awhile. The scent is subtle, I believe it is just from the various oils used in the balm.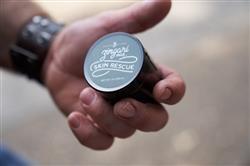 Thank you for taking time to share, we love hearing your loving the rescue!